Specialist professional service of antique clocks
One of Dublin's master craftsmen, Bill Lawless has been repairing clocks for almost fifty years. Carrying on a tradition which goes back hundreds of years, Bill is now one of the few remaining clockmakers in the country. Seduced by the history of old clocks and the stories behind them, Bill is proud of his craft and his 'old fashioned values'. Each piece is treated knowingly and lovingly, and in his hands, old clocks are brought back to life. Working alone in his workshop in Stoneybatter, he is surrounded by walls and shelves covered with ticking clocks. 'People don't know how I can stand the ticking, but to be honest I don't really hear it. I suppose you could say they keep me company!' So don't let your antique clock lie stored away in the attic, or lifeless on the mantelpiece, it's time for a service.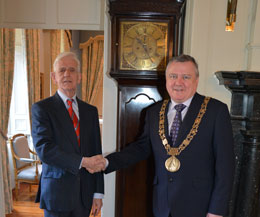 Bill with Lord Mayor of Dublin - Brendan Carr
---
Clock Repair

Bill has been repairing clocks since 1984. Some clocks were built during Bills' lifetime while many preceed him - some dating back as far as the 1700s. With a combination of craftsmanship, knowledge and experience, dormant and disrepaired clocks are given new life. "We offer a full 12 month guarantee and all clocks are repaired to the highest standard."
As Bill says "The majority of old clocks can be repaired.", so if you have an old clock lying around at home and you would like to get it back in original working order, then get in touch and get an acurate estimate of how much it will cost to repair. Lawless makes replacement wheels, cogs, or pivots as needed etc so you'd be surprised at what can be repaired!

Clock Maintenance

While the majority of our work revolves around repair, we do offer a once off or regular service of clocks. "If a clock won't work, it comes down to wear and tear. It's like your car. If you don't get it serviced, it sits down. Except with a clock you're looking at 15 to 20 years between services." We realize that some clocks maybe heavy or delicate so we can make housecalls in the general area.